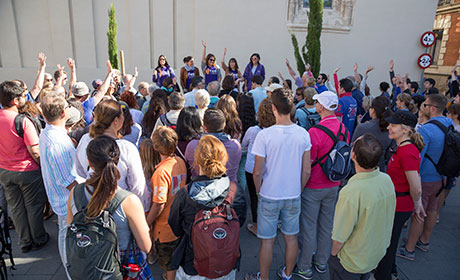 Everything you need to know about Free Tours
6 ventajas de hacer un Free Tour
Visiting a city is not the same as living it. To get to know the true essence of a place, it is essential to rely on the help of a local guide who knows how to show all of the hidden treasures to visitors. By doing so, we break away from the scripts in history manuals and focus on the hidden corners, popular legends, famous people and details that mark and define the true identity of the city.
That's why the guides of our Free Tour of Seville will be the crew guiding you to your next adventure towards the mysteries and legends of the city of Seville. They will accompany and guide you through the main tourist attractions and monuments in the city, showing you its artistic and cultural complexity. Seville is a city bursting with Art and Tradition, and only through the eyes of our local guides will you be able to discover the true heart of Seville.
Walking will completely change your experience of the city. Seeing the streets from the seat of a boring tourist bus is not the same as discovering them by wandering around them and being delighted by its details. That's why we believe that the best way to get to know a city is by walking around and seeing the most emblematic places on foot.
However, you won't get tired! Our Free Tours of Seville are created for people of all ages and any physical condition to enjoy. They last approximately 3 hours, just enough time to see the most important parts of Seville without it turning into a tedious visit. Moreover, our guides will know how to liven up your tour and time will fly by!
Our rule for our Free Tour is that each person pays only what they consider fair and this is our maximum quality guarantee. When you go on a Free Tour, you're not required to pay a certain amount of money. At the end, and once you have finished your tour, you will be able to pay whatever you think is fair, or the amount that you feel is appropriate depending on your economic situation. However, due to the high capacity that our tours usually reach, we recommend that you book so that you don't end up without a place una reserva.
We believe in a democratisation of culture. That's why we want everyone to be able to enjoy the Free Tours of Seville that we organise every day. Book your spot so that you don't miss out! And don't worry about anything else: just arrive on time at the meeting point. At Free Tour Sevilla we are so sure that you will like our tours that we want you to pay the price that you think is fair.
The Free Tours are not only created to get to know the city and visit its main buildings and monuments. As well as showing you all of the ins and outs of a city, they have so many possibilities! Particularly, they are a meeting point for those who are travelling solo or who want to meet some new people at that destination. That's why you'll never feel alone! In the Free Tour you will meet other people who are keen to have a good time and have very similar interests to you.
In the Free Tours that we organise daily in Seville we are accompanied by people of many different nationalities. They all want to liven up their trip in the best way possible, that's why the tour is a great way to make friends. We recommend that you make the most of the Free Tour to meet people that you can then do other activities with after the tour, like go for a beer, have tapas and enjoy the Sevillian landscape and gastronomy. Everything is better with friends and good company!
On the Free Tour you will be able to learn about all of the historical and cultural curiosities of a city in a fun, unique way. But it also offers you much more interesting, useful information for your trip. One of the big advantages of these tours is that they inform you of all of the current leisure and culture activities that are taking place in the city at that time, as well as the best things to do in the city when you have finished the tour.
In this way, the local guides of the Free Tour of Seville are always ready to suggest alternative plans. They will inform you of all leisure and cultural events available in the city, and the main attractions and activities that you can do in Seville off the beaten track. The best places to eat, trendy local places, the best place to listen to live music or the best shopping areas... Anything that interests you, our guides will give you an answer. With the Free Tour of Seville you won't need a guide of Seville. We are the guide!
If you are travelling with children and are not sure whether doing the Free Tour is a good choice, we can assure you that it is; you can do it! All of the Free Tour Sevilla tours, both the Free Tour and the Guided Tour, are created so that they can be enjoyed by people of all ages.
Our local guides are ready to entertain and have fun with any kind of public. When there are small children in the group, the guides will encourage them to participate in the tour with their ideas, comments and questions. By doing so, we are able to adapt and liven up our Free Tours so that the little ones can enjoy them too.